Special Needs Pull-Behind Trike

A customer needed a way to allow their boy to enjoy the freedom of a bicycle, without loosing complete parental control of his destination.

Designed and created this custom attachment to pull the trike with the ease of a trailer.

The boom is fold-able or removable for less supervised riding.
---
We can do things other shop can't, or won't; Just Ask.
---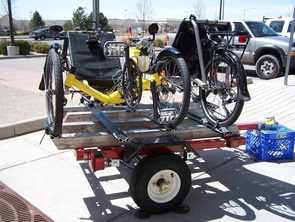 How about a way to transport your tadpole type trikes?
Custom built to fit two Catrikes, there is nothing on the market to carry two trikes, except a hitch mount rack that is a bit too tall to accommodate those that aren't willing to lift one unit over their head.
---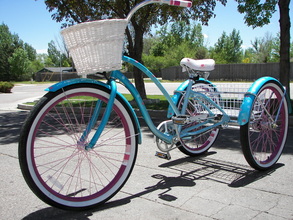 Need a custom tricycle?

This was built from an Electra Jenny 3i.
​A cool mom wanted a way to haul the kiddo's, and the groceries without looking like a granny.
---
HOURS M/T/W/F: 10:00 - 6:00 Thurs: 10-5:30 Group Ride at 5:30 Sat: 9:00 - 5:00 Sun: Closed
427 Main St. Windsor, CO 80550
(970) 686-9275