Service Menu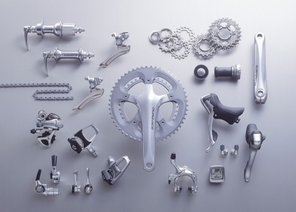 We can fix what ails you.
Ideally we always like to see your bike first before quoting you a price for service, what is needed on the bike can be quite different then what is expected. Sometimes a bike needs more work then expected, often times less. We will happily do something as simple as a brake or derailleur adjustment, or fix a flat. We are fully capable of a complete overhaul of the entire bike.
There is very little we can't do; we do what other shops can't and won't do.
We strive to get bikes in and out of our service area as quick as possible, we have a fully stocked parts department, although sometimes it can take a while if additional special order parts are needed. Early Spring to Mid Summer can be very busy in the service department, so call us and ask about making an appointment, to minimize the loss of ride time on your bike.
---
SERVICE PACKAGES
Basic Tune: $79
Complete inspection of all the moving parts of the bike. Adjust derailleur alignment and indexing, realign brake pads, lube and adjust shifters, cables, and brake pivots, True the wheels, Check and adjust; hubs, headset, bottom bracket, as well as a simple cleaning of the frame and components. Inspection and torque of all fixing hardware to make sure the bike is safe and ready to ride.
*
Parts are an additional cost if needed.
Ride Tune: $129
Includes ALL aspects of the Basic Tune plus, we will remove the drivetrain and scrub the parts in our professional grade, solvent tank. We will also true, dish, and tension the wheels, as well as a thorough cleaning of the bike.
*
Parts are an additional cost if needed.
Pro Tune: $289
In addition to the Ride Tune, we will strip the bike to the frame, open up, clean, and re-lube all it's bearings. That's hubs, headset, and bottom bracket. This will include new cables and housing. Road bikes will need to purchase new bar tape to complete this tune.
*
Parts are an additional cost if needed.
*
This tune is the closest thing to getting a new bike*
Safety Tune: $49
Our most inexpensive tune-up, this is a safety inspection of the entire bike, including lube the drivetrain, simple brake and derailleur adjustments, and simple on the bike wheel true. When more is necessary, an upgrade to a Basic Tune will be suggested.
​* Parts are an additional cost if needed.
Flat Repairs: $8.00


Price is for the service only, the choice of tube is yours and is an additional cost. We will change your tube in most instances while you wait, bring in your wheel off the bike for quickest turn around, and discounted to $5.00 We're fast and we're good and we don't charge an arm and a leg for this basic service.
Here's are a few things that we can do:

The following is a list of our services provided, it's not complete, so please call or come down to the shop for more in-depth analysis of your bike's service needs.
Whether you need your derailleurs adjusted, a broken spoke replaced, or a complete overhaul that makes your bicycle run and look even better than new, we are bike repair experts with the experience, knowledge and training to do the job right the first time, every time.

Please contact us any time. Or, even better, bring your bike in to discuss your bicycle issues and find out which service is appropriate. Estimates are always free so you'll get the information you need and can decide what service best fits your needs. Also, if you need immediate or rushed service to be ready for that big ride or event, please ask, and we'll do our best to fit you in (express service charge may apply).


WHEELS
Flat tire repair
Replace tire(s)
Replace broken spoke(s)
Install new front wheel
Install new rear wheel (derailleur)
Install new rear wheel (coaster-brake)
Install new rear wheel (internally geared)
Wheel truing
Wheel tensioning, dishing and truing
Wheel building
Hub bearing overhaul
Replace cassette

BRAKES
Replace brake cable(s)
Replace brake shoes
Minor brake adjustment (cable)
Minor brake adjustment (disc)
Major brake adjustment (cable)
Major brake adjustment (disc)
Bleed hydraulic disc brakes
Disc-brake rotor repair
Hydraulic disc brake line repair/replace
Install and adjust new brakes (cable)
Install and adjust new brakes (disc/hydraulic)
Install and adjust new brakes (disc/cable)

BEARINGS
Overhaul headset
Overhaul/replace bottom bracket
Overhaul hub(s)
Overhaul pedals
Overhaul derailleur pulleys

FRAME & FORK
Check/align dropouts
Replace fork
Tune front and rear suspension
Tune suspension: fork
Tune suspension: shock
Suspension fork overhaul
Rear shock overhaul
Steel frame alignment/repair
Frame preparation for assembly (thread chase & face)
Derailleur hanger (frame) repair/replacement

BIKE FITTING
Installing and adjusting shoe cleats
Basic seat and handlebar adjustment (free with purchase of new bike)
Complete fitting of the bicycle


DRIVETRAIN
Clean and lube
Complete drivetrain service (inspect, repair, adjust: cables, bottom bracket, crankset, derailleurs)
Replace chain (may need to replace cassette, too)
Replace cassette
Replace chainring(s)
Replace crankset and bottom bracket
Adjust front derailleur
Adjust rear derailleur
Replace front derailleur
Replace rear derailleur
Install new derailleurs and shifters
Replace shift cable(s)
Derailleur hanger (frame) repair/replacement
Remove pedals
Install pedals
Overhaul pedal bearings

FRONT END
Adjust headset
Overhaul headset
Replace headset
Replace handlebars
Replace stem
Replace handlebar tape
Replace handlebar grips

OTHER SERVICES
Box bike for shipping
Build boxed bike (shipped)
Replace seat
Replace seat post
Install toe clips
Install rear rack
Install handlebar light
Install taillight
Install fenders
Install lighting system
Install baby seat
Install water bottle and cage
Install and setup cycle-computer
Install kickstand
Install pump

HOURS M/T/W/F: 10:00 - 6:00 Thurs: 10-5:30 Group Ride at 5:30 Sat: 9:00 - 5:00 Sun: Closed
427 Main St. Windsor, CO 80550
(970) 686-9275